Btcpk.net is the oldest and most trusted Bitcoin and Alt Coin exchange in Pakistan.
We are serving our valuable customers since 2015. With our head offices based in Islamabad we are ready to take any volume and amount of trade. For fast, reliable and hassle free service please contact us.Our One Stop service to buy and sell Bitcoins (BTC) and other AltCoins in Pakistan is rated top among Bitcoin users and other blockchain enthusiasts.
Our customer service operates 9:00 a.m PST - 9:00 p.m PST. Our customer service speaks both English and Urdu fluently. Our Prices are based on average of Coinmarketcap and Localbitcoins.
BTCPK Exchanger | BTCPK Users Classified Market | BTCPK Trade Portal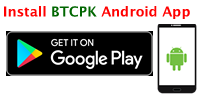 Latest Cryptocurrency Prices in Pakistan & Market Capitalizations
Currency
Price
Market Cap
Volume 24H
Change % (1H)
Change % (24H)
Change % (7D)
BTC
PKR 934,710.70
PKR 144,366,280,049
PKR 7,468,930,000

-0.15%

2.99%

6.24%

ETH
PKR 64,901.43
PKR 58,377,549,466
PKR 2,577,170,000

-0.42%

6.11%

17.16%

XRP
PKR 97.42
PKR 34,650,316,170
PKR 2,000,380,000

1.87%

18.06%

34.14%

BCH
PKR 122,541.10
PKR 19,032,289,920
PKR 938,084,000

-0.86%

16.14%

47.91%

EOS
PKR 1,218.07
PKR 8,926,045,884
PKR 1,321,760,000

-0.91%

18.88%

24.18%

LTC
PKR 16,726.71
PKR 8,541,602,840
PKR 451,130,000

0.94%

4.61%

18.27%

ADA
PKR 32.43
PKR 7,644,778,238
PKR 311,519,000

8.88%

42.43%

XLM
PKR 41.17
PKR 6,950,558,537
PKR 140,644,000

0.09%

2.65%

47.00%

MIOTA
PKR 215.90
PKR 5,455,384,086
PKR 98,666,900

0.24%

12.27%

40.98%

NEO
PKR 8,396.84
PKR 4,961,768,500
PKR 163,360,000

-0.69%

4.24%

18.03%

XMR
PKR 28,072.11
PKR 4,070,541,556
PKR 101,839,000

0.43%

7.70%

31.74%

DASH
PKR 49,096.08
PKR 3,579,955,559
PKR 105,299,000

0.29%

4.58%

21.94%

XEM
PKR 43.36
PKR 3,547,818,000
PKR 50,798,300

0.26%

2.87%

34.32%

TRX
PKR 5.68
PKR 3,392,720,907
PKR 414,426,000

0.24%

4.48%

29.38%

USDT
PKR 109.63
PKR 2,279,531,496
PKR 3,121,620,000

-0.17%

-0.14%

-0.24%

VEN
PKR 417.53
PKR 1,995,692,580
PKR 84,438,300

0.69%

2.81%

13.12%

ETC
PKR 2,113.40
PKR 1,945,787,326
PKR 233,321,000

-0.17%

5.94%

19.24%

QTUM
PKR 2,182.25
PKR 1,756,458,143
PKR 226,318,000

0.14%

7.23%

21.93%

OMG
PKR 1,744.07
PKR 1,617,905,067
PKR 118,485,000

0.21%

1.46%

19.15%

BNB
PKR 1,350.62
PKR 1,400,244,576
PKR 79,107,500

0.17%

-0.58%

-8.12%

ICX
PKR 384.03
PKR 1,351,898,246
PKR 61,734,200

0.26%

8.08%

35.26%

XRB
PKR 1,066.40
PKR 1,291,787,532
PKR 29,970,000

-0.15%

-0.44%

3.80%

LSK
PKR 1,313.22
PKR 1,254,252,448
PKR 31,204,100

-0.27%

2.79%

18.67%

ZEC
PKR 30,600.79
PKR 1,041,683,927
PKR 72,894,300

1.41%

7.86%

20.25%

ONT
PKR 474.55
PKR 1,040,722,998
PKR 63,415,800

0.69%

-5.28%

-3.19%
| Currency | Price | Mkt. Cap | Volume 24H | Change % (1H) | Change % (24H) | Change % (7D) |
| --- | --- | --- | --- | --- | --- | --- |
| Bitcoin BTC | PKR 934,710.70 | PKR 144,366,280,049 | PKR 7,468,930,000 | -0.15% | 2.99% | 6.24% |
| Ethereum ETH | PKR 64,901.43 | PKR 58,377,549,466 | PKR 2,577,170,000 | -0.42% | 6.11% | 17.16% |
| Ripple XRP | PKR 97.42 | PKR 34,650,316,170 | PKR 2,000,380,000 | 1.87% | 18.06% | 34.14% |
| Bitcoin Cash BCH | PKR 122,541.10 | PKR 19,032,289,920 | PKR 938,084,000 | -0.86% | 16.14% | 47.91% |
| EOS EOS | PKR 1,218.07 | PKR 8,926,045,884 | PKR 1,321,760,000 | -0.91% | 18.88% | 24.18% |
| Litecoin LTC | PKR 16,726.71 | PKR 8,541,602,840 | PKR 451,130,000 | 0.94% | 4.61% | 18.27% |
| Cardano ADA | PKR 32.43 | PKR 7,644,778,238 | PKR 311,519,000 | | 8.88% | 42.43% |
| Stellar XLM | PKR 41.17 | PKR 6,950,558,537 | PKR 140,644,000 | 0.09% | 2.65% | 47.00% |
| IOTA MIOTA | PKR 215.90 | PKR 5,455,384,086 | PKR 98,666,900 | 0.24% | 12.27% | 40.98% |
| NEO NEO | PKR 8,396.84 | PKR 4,961,768,500 | PKR 163,360,000 | -0.69% | 4.24% | 18.03% |
| Monero XMR | PKR 28,072.11 | PKR 4,070,541,556 | PKR 101,839,000 | 0.43% | 7.70% | 31.74% |
| Dash DASH | PKR 49,096.08 | PKR 3,579,955,559 | PKR 105,299,000 | 0.29% | 4.58% | 21.94% |
| NEM XEM | PKR 43.36 | PKR 3,547,818,000 | PKR 50,798,300 | 0.26% | 2.87% | 34.32% |
| TRON TRX | PKR 5.68 | PKR 3,392,720,907 | PKR 414,426,000 | 0.24% | 4.48% | 29.38% |
| Tether USDT | PKR 109.63 | PKR 2,279,531,496 | PKR 3,121,620,000 | -0.17% | -0.14% | -0.24% |
| VeChain VEN | PKR 417.53 | PKR 1,995,692,580 | PKR 84,438,300 | 0.69% | 2.81% | 13.12% |
| Ethereum Classic ETC | PKR 2,113.40 | PKR 1,945,787,326 | PKR 233,321,000 | -0.17% | 5.94% | 19.24% |
| Qtum QTUM | PKR 2,182.25 | PKR 1,756,458,143 | PKR 226,318,000 | 0.14% | 7.23% | 21.93% |
| OmiseGO OMG | PKR 1,744.07 | PKR 1,617,905,067 | PKR 118,485,000 | 0.21% | 1.46% | 19.15% |
| Binance Coin BNB | PKR 1,350.62 | PKR 1,400,244,576 | PKR 79,107,500 | 0.17% | -0.58% | -8.12% |
| ICON ICX | PKR 384.03 | PKR 1,351,898,246 | PKR 61,734,200 | 0.26% | 8.08% | 35.26% |
| Nano XRB | PKR 1,066.40 | PKR 1,291,787,532 | PKR 29,970,000 | -0.15% | -0.44% | 3.80% |
| Lisk LSK | PKR 1,313.22 | PKR 1,254,252,448 | PKR 31,204,100 | -0.27% | 2.79% | 18.67% |
| Zcash ZEC | PKR 30,600.79 | PKR 1,041,683,927 | PKR 72,894,300 | 1.41% | 7.86% | 20.25% |
| Ontology ONT | PKR 474.55 | PKR 1,040,722,998 | PKR 63,415,800 | 0.69% | -5.28% | -3.19% |